Tarawa Whittington – Study Abroad
My first time travelling to South Korea has been full of surprises and different experiences. Before I left, I had many doubts about traveling to South Korea. However, I am very happy I decided to study abroad. My classes have been interesting and meeting new people from all over the world has been fun. I've seen many historical sites, including Gyeongbok Palace and Hanok Village, a home for hundreds of traditional homes that date back to the Joseon Dynasty. I have also experienced the nightlife and the cultural aspects of Seoul, including food and shopping. Also, learning Korean in Korea and speaking with many Koreans has been a great way to learn about Korean culture but also to talk about my own culture and my life in America. Yonsei University has also provided opportunities to learn about Korean culture, such as its popular culture with the Hallyu wave (K-pop, dramas, etc.) and traditional customs such as Chuseok (harvest festival). I have also made many friends who share my interests. I have learned so much about myself through my stay in Korea and I'm sad to see it end so soon. However, I have made great memories that I will cherish. Travelling to South Korea was a great opportunity and so much fun.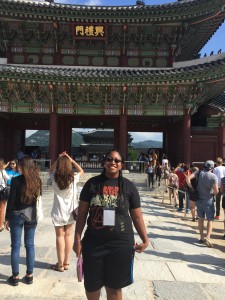 Gyeongbokgung Palace or Gyeongbok Palace, was the main royal palace of the Joseon dynasty. Built in 1395, it is in northern Seoul, South Korea. The largest of the Five Grand Palaces built by the Joseon dynasty, Gyeongbokgung served as the home of Kings of the Joseon dynasty, the Kings' households, as well as the government of Joseon. This is me pictured standing in front of the entrance into the palace.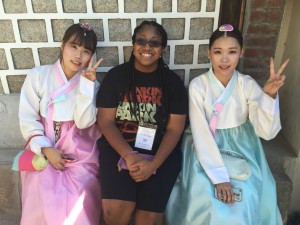 This is me pictured inside of the palace. My group and I happened upon two Korean women who were also visitors to the palace. They are dressed in Korean traditional clothing (Hanbok). During the Joseon dynasty men and women would wear different styles hanbok depending on their class standing. Now Koreans and foreigners alike can enjoy dressing in hanbok.