Previous Asian Studies Lectures
2013-2014
9/6/13 Yakshagana – Dazzling Dance Drama Musical from India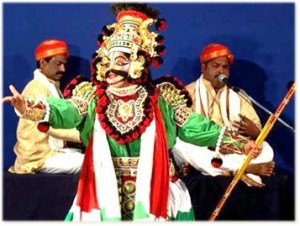 11/26/13 Asian Studies Program Lecture – Humanities Forum
Dr. Amaury Garcia, El Colegio de Mexico Center for Asian and Africa Studies, Exhibiting Erotic Art (shunga) and the Problem of Obscenity in 20th Century Japan."
In Japan today there is an informal prohibition against public exhibitions of erotic prints, or shunga,from the Edo period (1603-1868). For most of the 20th century they were considered obscene, publication of which were required to follow regulations stipulating that any bodily representation should be arranged or altered so that the genitals and pubic hair be kept hidden. Dr. Garcia will discuss the history of modern discourses regarding the changing nature of shunga's multiple identities, from commodity and popular entertainment to "obscenity," and then to "art;" that is, how they were interpreted and then censored in later periods for reasons far beyond their original cultural context.
Co-Sponsors: The Dresher Center for the Humanities and Visual Arts
12/3/13 Asian Studies Program 
Dr. Harjant Giil, Towson University, 
Film Presentation.  'Roots of Love': On Sikh Hair & Turban.
Discussion: 
Religion and Gender in South Asia 
Presented by the Asian Studies Program.
Co-Sponsored by Gender and Womens Studies.
2012-2013
10/3/12  Asian Studies Program Lecture – Social Sciences Forum
, Japanese Science and International Politics in the Interwar Period: The Nobel Candidacies of Hideki Yukawa (Physics) and Katsusaburo Yamagiwa (Physiology), "
James R. Bartholomew, Professor of History, Ohio State University
2/6/13 Asian Studies Program Lecture – Humanities Forum, Book Presentation: The City of Devi,
 Manil Suri, Department of Mathematics and Statistics, UMBC
3/13/13 Asian Studies Program Lecture – Humanities Forum,
 "Past Obsessions: World War II in History and Memory," 
Carol Gluck, Distinguished Lecturer, Association for Asian Studies and Department of History, Columbia University
2011- 2012
9/27/11 Asian Studies Program Lecture – Social Sciences Forum
, "U.S. Trade Policy In The Asia-Pacific: The Path Forward?"  
Ambassador Demetrios Marantis, Deputy US Trade Representative
11/3/11 – Asian Studies Program Lecture – Social Sciences Forum, "China Goes Global," Dr. David Shambaugh, Professor of Political Science and International Affairs; Director, China Policy Program, The Elliott School of International Affairs, George Washington University
2/8/12 Asian Studies Program Lecture – Humanities Forum
, "Pacific Encounter: The Japanese Iwakura Embassy in America in 1872,"  
Dr. Martin Collcutt, Princeton University
4/18/12 – Asian Studies Program Lecture – Social Science Forum
, Totaram Sanadhya's 'Mere Fiji Dwip me Ikkis Varsh' (My 21 years in Fiji) and the Second 
Abolition," Dr. Mrinalini Sinha, University of Michigan