Alicyn Curtis – Benjamin A. Gilman Scholarship Recipient, South Korea, Spring 2015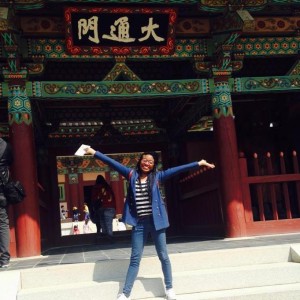 My name is Alicyn Curtis and I am majoring in MLLI (Modern Languages and Linguistics) Korean track and Asian Studies. I am currently studying abroad in South Korea for the Spring 2015 semester! As a recipient of the Benjamin A. Gilman Scholarship, I am required to spend at least a semester in another country studying foreign language. I was very thankful to receive the scholarship, as it allowed me the chance to study abroad and improve my Korean language skills.
My time in Korea has been very fun and adventurous. I have met new people from all around the world, not just from Korea. The food here is very good, my favorite food here is Korean BBQ and stone pot boiling egg. There is so much to do in Seoul; my favorite excursion with my study abroad group was our trip to Buyeo, a traditional Korean city in the countryside. I am currently attending Korea University, one of the three most prestigious, or SKY, universities in South Korea. Korean language courses here are very intense. I study Korean every day for about 1 hour and 15 minutes a day. I have two classes each day during the afternoon.
Springtime is finally here in Korea, the flowers are blooming, the weather is nice, and it is almost midterms. I currently live in the international student dorms called CJ-International House. Living with a roommate has been very fun and nice so far, since this is my first time living on campus. Living at home does not compare to living in the dorms, and now that I have gotten to experience dorm life, I am very interested in staying on campus when I return.
Studying here in South Korea so far is an amazing experience. I meet new people almost every day, and I plan to come back next summer to study Korean at Yonsei University!