Longwood Apartments Internship (Columbia, Maryland)
SUSPENDED UNTIL FURTHER NOTICE DUE TO STAFFING ISSUE
In 2013 UMBC's Asian Studies Program began an internship program with Longwood Apartments (http://www.howardcountymd.gov/displayprimary.aspx?id=1864), a HUD Section 8 housing unit and a Senior Center in Columbia, MD that has a large Korean and Chinese population. Our students have assisted the Manager, Ms. Nakia Coleman, and the Director of the Senior Center, Ms. Kathy Wehr, in a variety of ways, serving as interpreters at community meetings, teaching English language classes, participating in dance, art, and recreational activities with the residents, not to mention translating documents and facilitating general communication between the non-Korean or Chinese speaking staff and the residents. Our students overwhelmingly have found this to be a very rewarding experience, and one that has allowed them to put to use the Chinese and Korean language skills that they have acquired at least in part through their major in Asian Studies at UMBC.
In the Spring of 2014 we were fortunate to receive a Breaking Ground Grant from UMBC, and we were able to create an Asian Food Pantry for the low-income Asian senior citizens at the Longwood apartment complex.  Phil Alpern, Rachel McCloud and Kelitah Armstrong were the student interns who literally created the Asian Food Pantry, implemented and maintained it during the semester.  Community outreach included UMBC, Asian and non-Asian churches, Boy Scout troops and the two Chinese schools located in Howard County, Maryland as well as local businesses.  We are expanding the Asian Food Pantry during the Fall 2014 semester, and are currently recruiting students for the Spring 2015 semester internship cycle.  We invite you to apply for the following internships:
1. Work as an intern interpreter (ASIA 399 1-3 credits) translating for the Chinese and Korean residents at Longwood Apartments in Columbia, Maryland.  We are looking for students fluent in Chinese or Korean, who have a car on campus.  You can set your own hours.  You may also be assisting with music, English, and exercise classes as well as any other classes you would like to start at the building.  Each credit hour requires 40 hours of work at the building.
OR
2.  Work as an intern on the Asian Food Pantry project (ASIA 399 2-3 credits) for low-income Asian senior citizens living at Longwood Apartments in Columbia, Maryland.  Required meetings are Mondays, on UMBC's campus from 12-12:50 p.m.   Students will need transportation once a month for the food deliveries.  You do not need to be fluent in an Asian language to work as an intern on the Asian Food Pantry.  Each credit hour requires 40 hours of work on the Asian Food Pantry project, most of which is done from campus.
Both of these internships are excellent ways to gain hands on experience and develop skill sets that will look great on a resume for a future job or on a grad school application.
For more information, or to apply for either internship, please contact Dr. Constantine Vaporis, Director, Asian Studies Program at 410-455-2092 or vaporis@umbc.edu
Last semester we had 20 Longwood Apartment residents requesting food assistance.  This semester it has risen to 90 low-income Asian senior citizens requesting food from our Food Pantry.  Look for the red collection boxes throughout UMBC's campus.  Administration Building, RAC, University Center, Library, Shriver Center, RAC and Commons.  Please donate non-perishable Asian and non-Asian foods whenever possible as our collections are continuous.  Pass the word to your colleagues and students groups who may be able to assist us by conducting a food drive at their next meeting or event.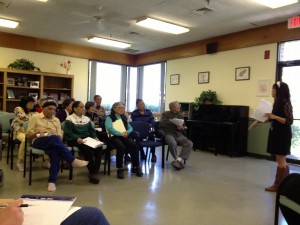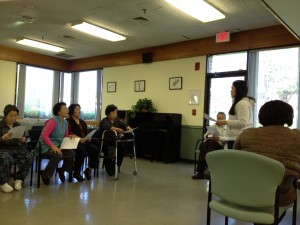 Asian Studies Students Who Have Interned at Longwood Apartments:  Christine Au, Klara Kim, Peter Yoo and Molly Bradtke
Several of our students have written about the positive experiences they have had by having an internship at the Longwood Apartments.