STUDENT NEWS - PHOTO CONTEST WINNER
CONGRATULATIONS TO ASIAN STUDIES MAJOR - KATIE SPRANDO!
September 24, 2013 2:35 PM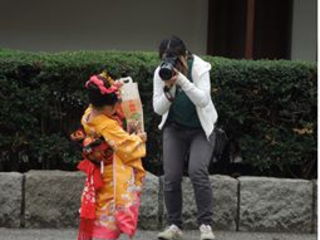 Congratulations, Katie, for this wonderful shot of a mother photographing her daughter on the occasion of the Shichigosan (7-5-3) Holiday in Japan, when parents take their 3 and 5-year old boys and 3 and 7-year old girls to Shinto shrines to celebrate their growth and well being. The kimono-clad girl is holding a bag that contains chitose ame, literally "1000 year candy," which had probably been given to her by her parents in celebration of the holiday.

Photo taken at Zojoji Temple in Tokyo.