Molly Bradtke, B.A., Asian Studies (2014)
I graduated from UMBC with an Asian Studies degree in December, 2014. Since then, I have been interning at the Asia Society Policy Institute in Washington, D.C. As an intern, I work with staff to complete research for potential programming and assist with outreach. The Asia Society Policy Institute is a branch of the Asia Society focused specifically on international policy issues relating to Asia. A part of my duties is to assist in research for potential future programming. I've done research on a broad range of topics, from climate change policy to Asian-Pacific trade relations. This research, as well as compiling relevant news articles on Asia each morning for the daily press scan, has allowed me delve right into subjects that I'm passionate about and learn about Asian policy issues at a deep level.
My favorite part of the internship, and maybe the most important one, is attending events around D.C. having to do with Asia and international relations. With Asia Society, I am able to attend lectures and panel discussions at leading universities and think tanks, as well as congressional hearings, and hear what leading experts in the field have to say about the most important issues in Asia-Pacific affairs. At these events, I have opportunities to become acquainted with other attendees and create a network of contacts in the field.
This internship allows me to build on the skills and experience I gained at UMBC. During my time at UMBC, I majored in Asian Studies, History, and English with a minor in Chinese language. In my quest to explore Asian culture and improve my language skills, I studied abroad twice in China, the first time completing three terms of intensive language study with CET Academic in Beijing and Harbin, and the second time as a participant in the Critical Language Scholarship program in Guangzhou. I was able to use my Chinese when interning through the Asian Studies department as an interpreter at the Longwood Senior Center, helping bridge the communication gap between the staff and the Chinese residents. I am also a proud graduate of the Honors College and Humanities Scholars Program.
Over the next several years, I hope to continue to broaden my knowledge base and improve my language skills while pursuing a graduate degree in international relations in Washington, D.C. I intend to focus my studies on US-Asia relations, with a specific focus on climate change cooperation.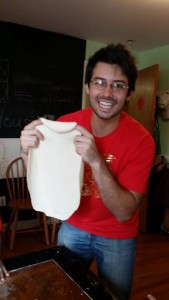 Vadim Rubin, B.A., Asian Studies (2013)
After graduating from UMBC (Spring 2013) with a B.A. in Asian Studies, I traveled to China for three months to continue studying Mandarin in Nanjing, China and to teach English. While in Nanjing I studied Chinese, formally, for more than 20 hours/week and was immersed in the language every single day. This trip continued to build on the intensive exposure to Mandarin that I gained during the summer of 2012, when I held a Taiwan Ministry of Education Huayu Scholarship, for which the Asian Studies Program had nominated me.
Upon my return from China in the fall on 2013, I began teaching Mandarin as an after-care program at The New Century School (TNCS) in Baltimore's Fells Point for about five months. TNCS is a Montessori-inspired K-5 school that applies a multi-lingual curriculum (Mandarin and Spanish). When the lead Mandarin instructor at the school caught wind of my ability to not only speak, but also to teach, Mandarin, she asked me to be an assistant teacher for TNCS's summer STARTALK Mandarin Immersion program. Our program was a three-week intensive Mandarin course for 40 students, ages 6-10, with language skills ranging from novice low (complete beginner) to intermediate low (some Chinese experience).
After the STARTALK program, The New Century School hired me as a full-time assistant Mandarin teacher and Mandarin curriculum developer. Currently, I work with 3-5-year-old students in the Montessori classroom, where I speak with them in Chinese and work with them on Chinese Montessori materials that the lead Mandarin instructor and I have created. During the afternoons I assist the lead Mandarin instructor in creating Elementary curriculum and lessons, preparing for the 2015 STARTALK program. For this program I will be the Lead Teacher, and instructing 1-5 grade classes.
I have plans to a return to Taiwan at the end of this year to become a full-time TESOL/ESL/EAL teacher, and in the near future I would like to attend graduate school either for a Masters in Chinese, Second Language Acquisition, or both!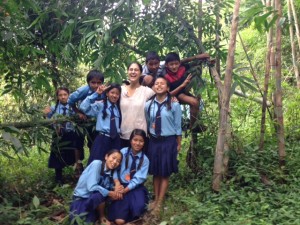 Yasmin Radbod, B.A., Asian Studies (2012), writes from Nepal, where she is teaching 6th-8th graders as part of the Fulbright Program
"The Fulbright ETA program is an incredible experience because it is humbling and eye opening. It's not just because I'm traveling abroad. I see the impact I have on my students every day in class. I see their smiles and their excitement to learn, whether it's dance class after school or arts and crafts or making toilet paper mummies for a Halloween celebration. And I live with a very traditional Nepali family, which has been a great experience. It has made me appreciate my family so much more and it's made me cognizant of how much more I need to be there for my own family. Of course I have breaks and I travel everywhere in Nepal. I have been rafting on crazy rapids, hiking in the Annapurna mountains, and I leave next month for a safari and a visit to Buddha's birthplace. It's a lot of up and down but above all I remember I'm here for my students, not only to teach English, but to give them a role model and provide them with different and new ideas of learning and teaching. I love my students and they motivate me on the tough days when I feel like nothing is going right."